@OptionsHawk
| Joe Kunkle
Founder of OptionsHawk - Trading Hub - Street's Best Live Market Coverage
---
Top Posts
Most engaging posts mentioning stocks from @OptionsHawk over the last 72 hours.
03/24/23
$BABA next week calls hot early w/ buyers
03/24/23
$CBRE puts now around $9.50...not too shabby Always look for names that will get caught in the crossfire when crisis' start https://t.co/KW7jJQUFxB
03/26/23
We have a market w/ 80% of names under the 50-day but $AAPL $AMD $NVDA $GOOG $MSFT all leading in strong trends
03/23/23
$SE triggering breakout above earnings high and consolidaiton
03/25/23
$MANU https://t.co/zNXjJhAmPV
03/23/23
$SWAV strength continues
03/24/23
$GNRC strong early bull reversal candle
03/23/23
$SMCI to 118 from 75 in two months, never fails https://t.co/FwQfPvf92z
03/23/23
$BAC April 25.50 puts up to 15K now
03/24/23
$VRTX quiet strength to multi-week highs
03/24/23
$PTON 5K next week puts bought as this week adjust
03/23/23
$SHOP up 4% to multi-week highs, impressive how many growth names have held so strong and weakness focused on Financials and Energy
03/23/23
$DASH strong and coiled near recent highs
03/23/23
$ES_F nice early move w/ breadth real strong Was looking for 4025 on a 4002 break From morning report https://t.co/qBX5XYhXQp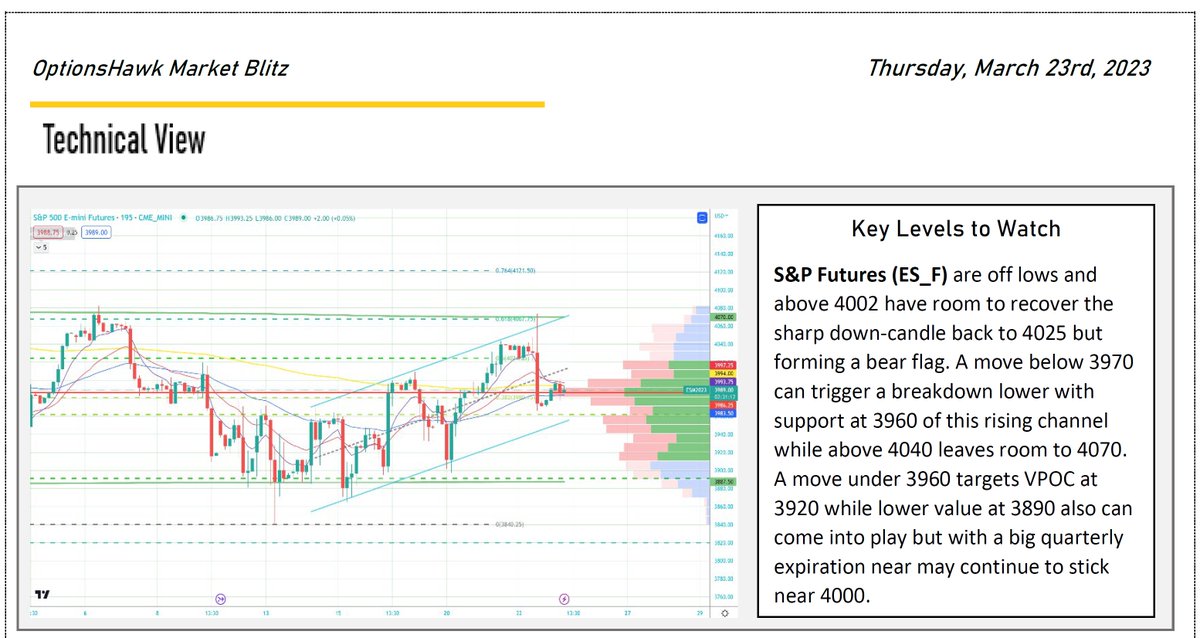 03/23/23
Apple $AAPL large buy-write sells 2000 January 2025 $215 calls for 9.20
03/24/23
$WOOF Jan 7.50 puts
03/24/23
$RCUS July 20 call buyers interesting w/ it trading around cash value and Biotech M&A hot
03/24/23
Europe Financials $EUFN with 15,000 April $17 puts bought $0.70 to $0.80
03/24/23
Inflation Protected Treasury $TIP odd buy of 40,000 September $120/$125 call spreads for $0.27, clearing 200-day this week with big volume pocket back to 113.5
03/24/23
$NFLX hot open again
03/23/23
$ROKU strong to highs, coiled w/ impressive resilience of late and some far OTM call buys
03/23/23
Advance Micro $AMD staying strong and seeing 5000 May $85 puts sell to buy 5000 of the $105/$120 call spreads
Captain Connections - 5 Days
Discover the most influential accounts with highest volume of shared conversation and/or mutual connections with @OptionsHawk within the past 5 days
TRACKING
3PeaksTrading
Stock Focus
Stocks most mentioned by @OptionsHawk and their Twittersphere over the last 7 days. Click on stock to filter posts below.
10-day conversation volume for Trending Stocks
Conversation volume patterns across FinTwit, for @OptionsHawk, and their Twittersphere, most-mentioned stocks
Add or remove @OptionsHawk from your watchlists:


Hang tight! We're updating your watchlist data.

This might take a minute...
You have not created a watchlist.
Create one now
to track @OptionsHawk!