@InvestorsLive
| Nathan Michaud
This account is owned/operated by InvestorsLive, LLC. Disclosure information: http://investorsunderground.com/terms
---
Top Posts
Most engaging posts mentioning stocks from @InvestorsLive over the last 72 hours.
03/23/23
$PACW big fades there.
03/23/23
The $WAL's are caving in cc: $FRC $PACW https://t.co/umSMpHQo5a
03/23/23
$SCHW and $BAC steady melt down today
03/23/23
$SQ thought process and key levels so far 👇 It's going to be crazy tug of war off open given the option dealers. https://t.co/mB7tHTV9Wr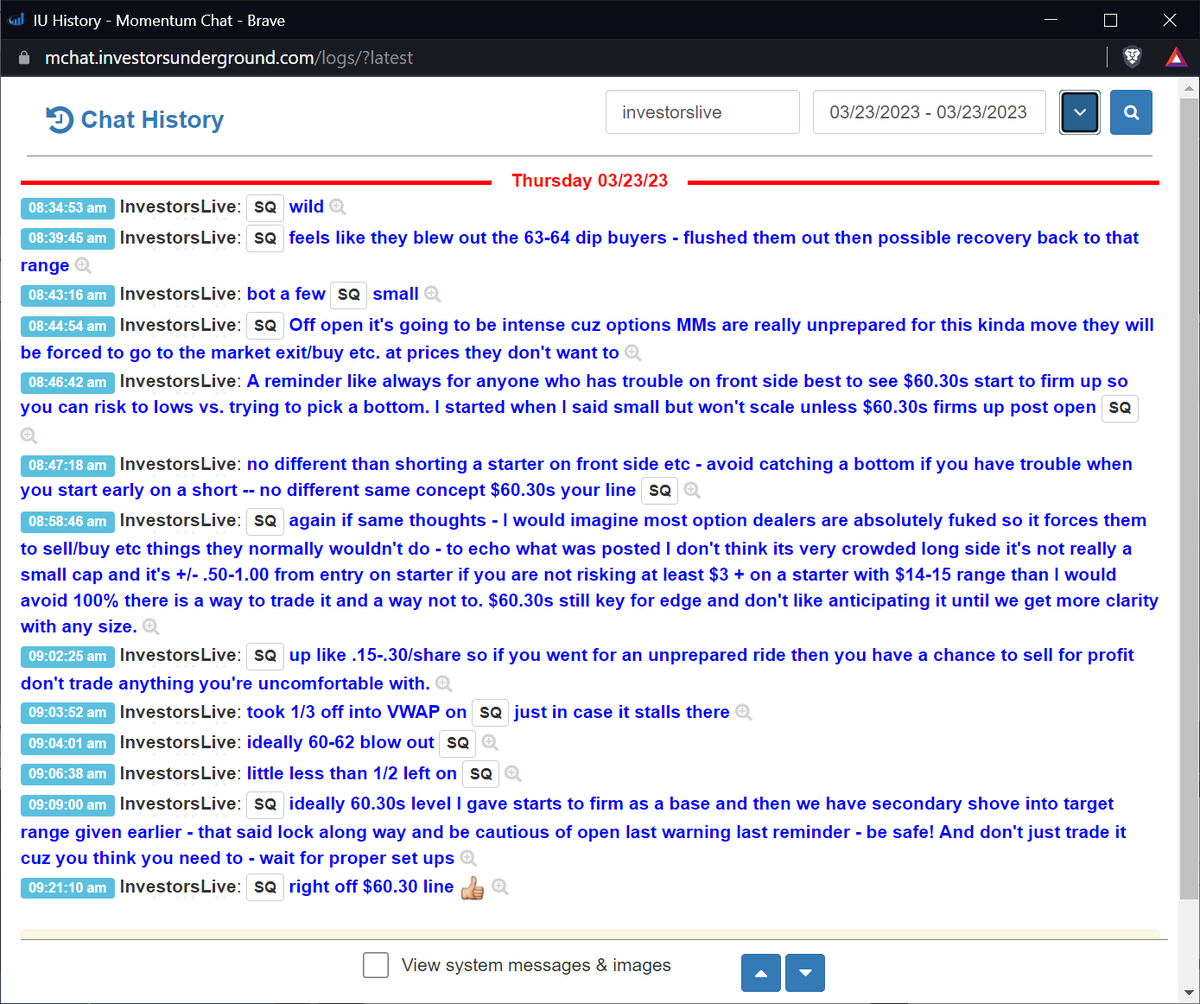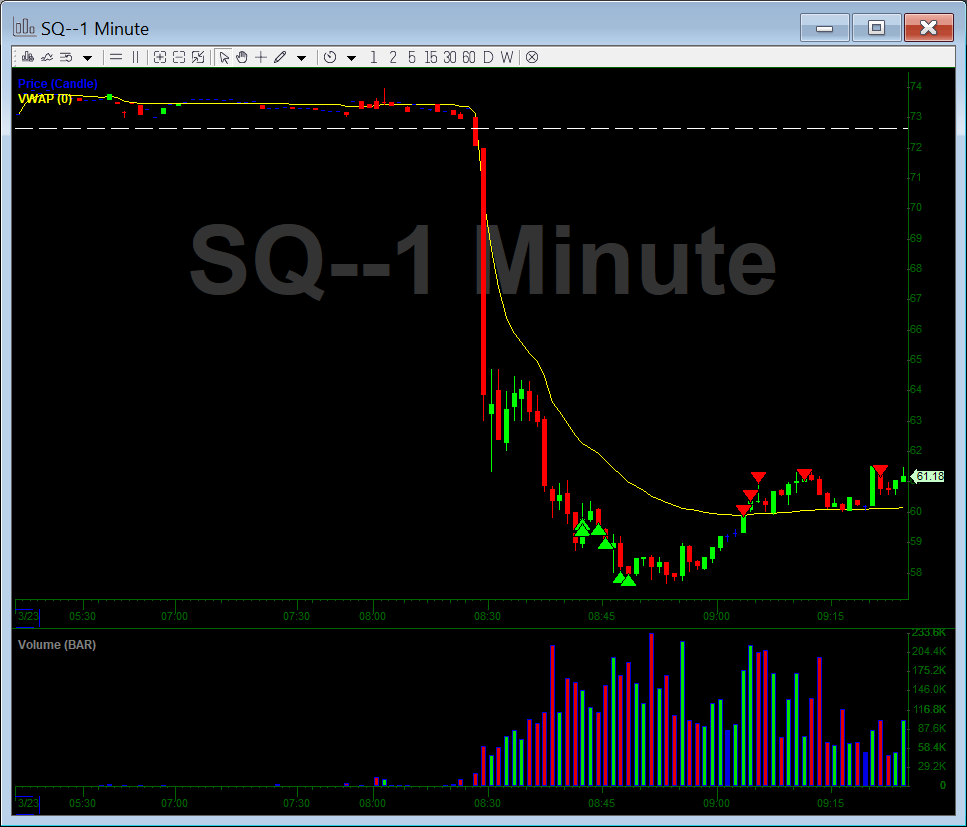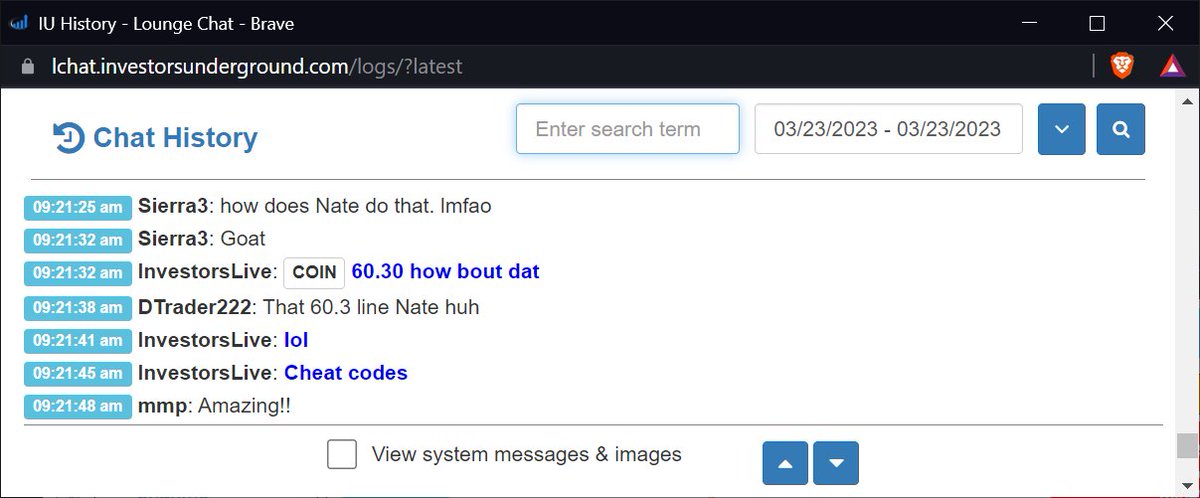 03/24/23
Works every time $AI beautiful fade. https://t.co/XHeOlT0m7Z
03/24/23
And $ONON and on and on and on nHODs https://t.co/zaE61Cdk0y
03/24/23
It just keeps going on and on an $ONON and on.
03/24/23
And here they go $DPST $KRE $KBE (Not $KPE) https://t.co/1CoJOdOF3p
03/24/23
$BBIO holy hell that was nuts. Remember 8,823,530 shares just priced at $17 so over that was likely a gift.
03/24/23
$NOTE fresh lows 08:04:36 am InvestorsLive: NOTE can retrace all of yesterdays move imo
03/24/23
Nice trap on the recent $DUO swing from earlier in week
03/24/23
$CDTX $1.13s https://t.co/DaezCoKNQu
03/24/23
$DPST $KRE $KPE is a good way to get basket exposure without the single name risk when a trade sets up like that. https://t.co/lGjVnwjA0R
03/24/23
Focus on 8:50AM broadcast = $MARA $RIOT then we got a nice opportunity on $ETNB https://t.co/5lXNcK8SXw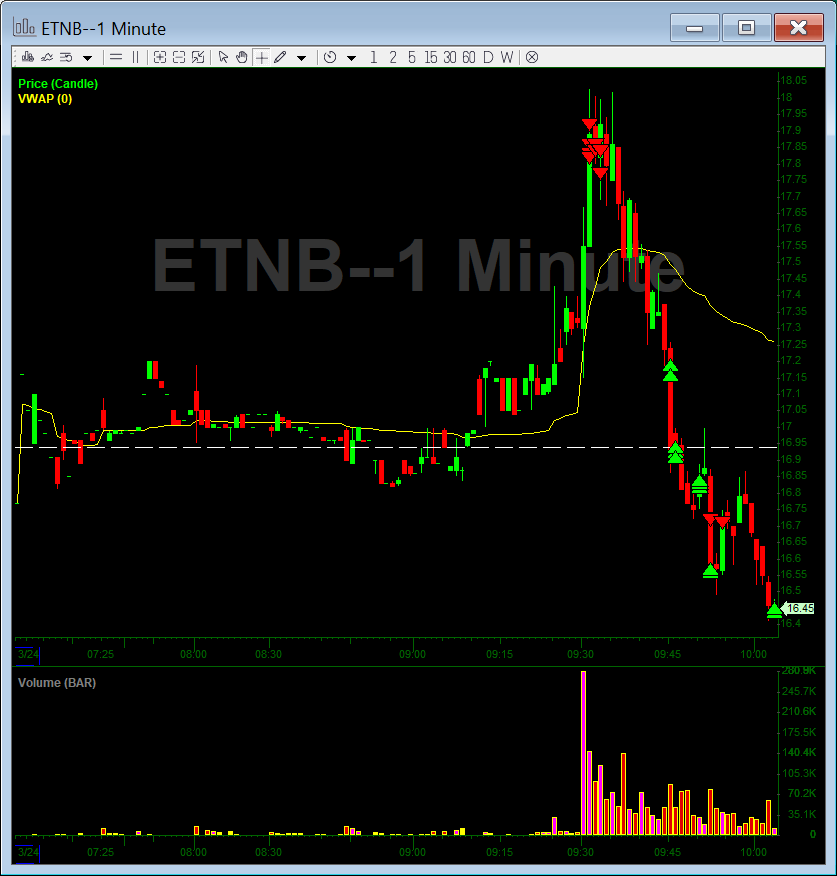 03/23/23
$FRC 12 bottles of beer on the wall, 12 bottles of beer. Take one down and pass it around, 11 bottles of beer on the wall @elkwood66
03/23/23
Check this out @Qullamaggie I am leaving early, wrote it and then the bids just came out of $SPY .. algos are front running departure times. 01:06:03 pm InvestorsLive: Going to be leaving in about 40 minutes so trading with that in mind.
03/24/23
RT @DayRanger: $RBLX has been on the IU pre market scanner all morning, and now i know it's due to strong yipit data, which reported on $NF…
03/23/23
$CDTX 1.3x's ✅️ https://t.co/L9wuYc7AsJ
03/23/23
I don't want to hear that you didn't know I even tweeted it Even @Qullamaggie thought this time would be different You're welcome By the way $RIOT $MARA $AI $COIN 👌 https://t.co/pCcL18Ffki
03/23/23
$BOXD wild move - hopefully brings back some sub .50 to 1.00 names those were fun. Been a while since circuit to circuit off open action.
03/23/23
$SQ Block's Response to Inaccurate Short Seller Report
03/24/23
$NOTE fresh lows Move started at $1.35 fwiw What a clean unwind! https://t.co/0wbQfuB6qu
Captain Connections - 5 Days
Discover the most influential accounts with highest volume of shared conversation and/or mutual connections with @InvestorsLive within the past 5 days
TRACKING
OddStockTrader
elkwood66
Stock Focus
Stocks most mentioned by @InvestorsLive and their Twittersphere over the last 7 days. Click on stock to filter posts below.
10-day conversation volume for Trending Stocks
Conversation volume patterns across FinTwit, for @InvestorsLive, and their Twittersphere, most-mentioned stocks
Add or remove @InvestorsLive from your watchlists:


Hang tight! We're updating your watchlist data.

This might take a minute...
You have not created a watchlist.
Create one now
to track @InvestorsLive!